Baptisms in the Sistine Chapel
Inside the Sistine Chapel every year a Mass is celebrated every year on the occasion of the Feast of the Baptism of the Lord (the first Sunday after Epiphany), during which the Pope baptizes newborns.
In 2022 the ceremony returned after a year was missed due to the health emergency. On 9th January 2022 Pope Francis presided over the Holy Mass and the Baptism of some children.
The procedure to baptize one's own child is difficult but not impossible, even if there is a long waiting list. It does not apply to children of divorced or separated people or of couples not married in the church.
The first request is to be made to one's parish priest, who must write a "letter of eligibility" and give permission to celebrate baptism outside his parish. The parish priest shall point out that the parents have attended the special pre-baptismal formation course and that they are people who usually participate in Christian and parish life.
The parents also have to write a letter to the Pope, asking him to celebrate the baptism of their child and giving reasons for their request.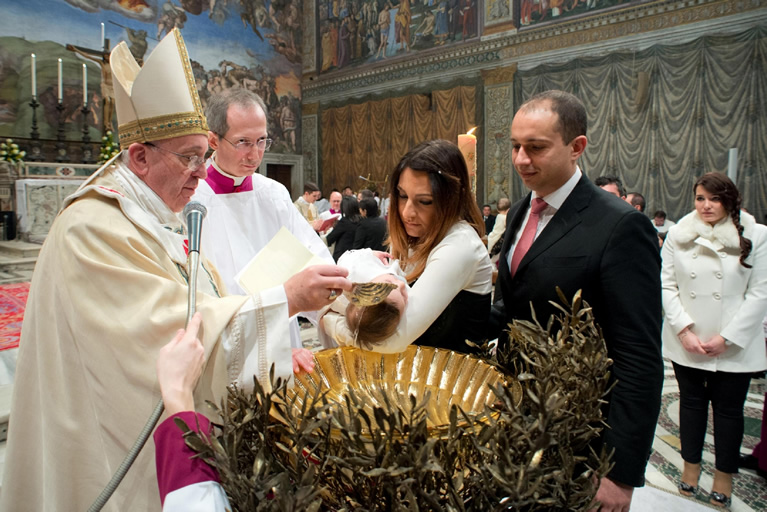 Once the family is chosen, a few days before, they participate in a general rehearsal of the ceremony without the presence of the Pope.
The day of the ceremony is the first time that the parents and newborn will meet the Pontiff.
The rite takes place at the baptismal font inside the Sistine Chapel, which represents the Tree of Life that holds the rising sun in its branches. At the base is a stone from the Jordan which is the river where Jesus received Baptism.
If the family is not chosen, the Vatican will send an answer clarifying the reason (probably due to too many requests).